Lessons
Tango West, established 17 years ago, was instrumental in bringing Tango to Bristol and the surrounding area. It is run by Andrew Oldroyd and Michele Tedder. Over the years we've held thousands of classes and put on and DJ'd at over 400 social dances and events.Tango West is the place to come to learn and dance Argentine Tango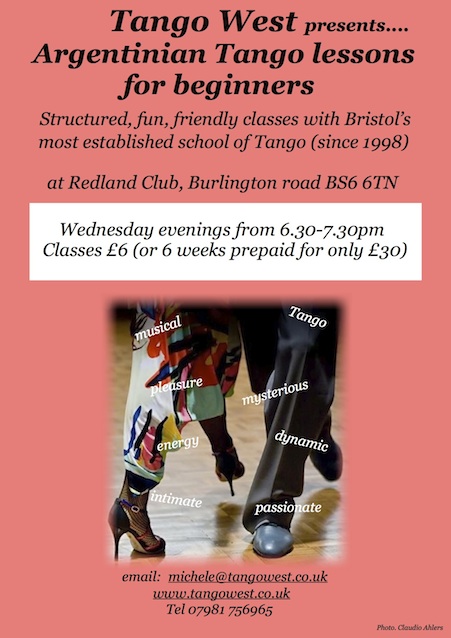 Beginners just turn up at 6.30pm on Wednesday


6.30-7.30pm Beginners & Recent Dancers
This class is suitable for absolute beginners, recent dancers and anyone wishing to refresh their technique....

We will cover: tango movement technique; posture, balance and axis; connection in the embrace: musicality; tango floorcraft and etiquette. Fun, friendly and structured classes with instructors Michele and Andrew.

£6 per class or £30 for 6 classes.

The 8th July :
Combinacion de Caminar y Media Luna, (walking and half turn combination - nice slow movements for a hot evening)

7.30-7.45pm practice time.

7.45-8.45 Themes & Technique class
This class is suitable for those with a solid understanding of fundamental tango technique. This class will focus on key themes designed to develop your dancing skills and build confidence for social dancing.

£8 per class including practica. ( Rewards system in place).
The 8th July :
Giro Lento con Spiral Elegante (Slow Spiral and Elegant Turns,
perfect for a hot evening)

8.45-10.45 Practica for all

Both classes on the same night inc practica = £10. Practica only £4

Click here for Map to Redland Club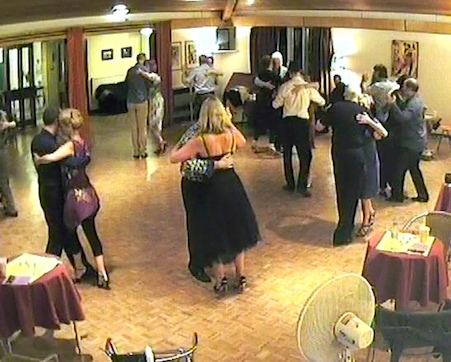 Forthcoming classes
Click below
Milongas & Events
We host regular Milongas (Social Dances) at the Redland Club, Burlington Rd, Bristol BS6 6TN. We aim to create the atmosphere of a Traditional Buenos Aires Milonga: featuring Golden Age tango music, played in tandas with cortinas...encouraging good floorcraft and the use of tango etiquette, including the cabeceo.
********

Andrew and Michele are also very experienced Traditional Tango DJ's having provided the music for literally 100's of Milongas over 15 years. They are available to DJ at your Tango event if you wish.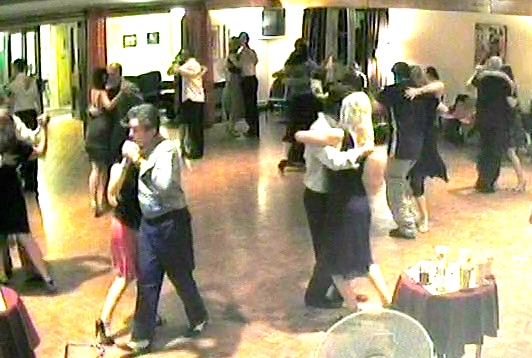 A lovely Milonga on Saturday 20th June folks - quite a buzz. Thank you all for coming and I really appreciate all the positive comments about the music. Thanks to Iwona for helping, with Michele being away
TANGO CAFE DOMINGO
Sun 12th July
Tango West's classic (mid-summer) Sunday afternoon/ early evening Milonga at the Redland Club. This month we are doing the second Sunday of the month

2 - 7pm Cost £10 - five hours of dancing
inclusive of superior refreshments

DJ: Michele Tedder.
Golden Age Tangos, Vals & Milongas selected for strong uplifting melodies and rhythm
See us dancing Tango, Milonga and Vals at the Redland Club
Sunday's Tango Cafe Domingo 3rd May:

The next Wednesday evening PRACTICA on
8th July

The Practica is free if you've taken classes during the evening. But anybody can turn up for around a couple of hours of dancing & practice in an informal atmosphere.
Cost £4




Click here for Map to Redland Club


Click here are our Milonga dates for the rest of 2015
For quick reference below

Remember, always check with the website before turning out for an event, because last minute changes sometimes cannot be avoided
We've changed the July & Nov Sunday dates to:
July 12th & Nov 8th
(from 5th & 1st)


SUNDAY - TANGO CAFE DOMINGO 2 - 7pm £10
July 12th, Aug 2nd, Sept 6th, Oct 4th, Nov 8th,
SATURDAY - MILONGA ESTA NOCHE 7.30pm - 12am £10
July 18th, Sep 19th, Oct 17th, Nov 14th,
Dec 19th (Milonga de Navidad)



Tango West - bringing Tango to Bristol & the South West for 17 years
Forthcoming milongas
Click below