Welcome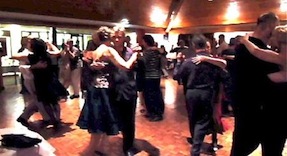 Tango West is one of the most established schools of Argentine Tango in the UK, having started over 16 years ago in 1998. We have taught 1000's of classes and put on around 400 social dances (or Milongas) over the period. Michele and Andrew are Tango West's principal Directors with over 32 years experience between them.
We hold regular classes from beginners upwards, on Wednesday evenings. We have acquired a reputation for providing structured, friendly classes with an emphasis on good technique, making for a solid foundation for dancing Tango Argentino.
If you are keen to try your hand at Argentine Tango, why not drop by at 6.30pm on a Wednesday, at our regular venue: The Redland Club on Burlington Road, Bristol BS6 6TN
Click here to see us dancing Tango at the Club
******************************************************************
The Redland Club is also available for hire for group and individual activities.
Click here for more details and pictures
******************************************************************
We had a wonderful send off for Iwona on Sunday - she will be sorely missed. Thanks to all who came to the Tea Dance, it was a great turnout.


Iwona's Farewell (click here for video)
*******************************************************************
NEW: Wednesday Practica
8.30 - 10.30pm only £4
at the Redland Club BS6 6TN - open to all


******************************************************************
Click here for our 2014 Milonga dates
(Please check regularly for any changes)

Click here for map to The Redland Club
Lessons
Wednesdays lessons:
This is the structure for most Wednesdays.
changes to programme from 2nd April

Beginners & Recent Dancers 6.30 - 7.30pm £6
(or £30 for 6 classes)

Improvers and Intermediates 7.30 - 8.30pm £8
(incl practica)

Practica (open to all) 8.30 - 10.30 £4
(free with class)

Both lessons and Practica £10

NB. Times and Prices may vary for Visiting Guest Teachers (check calendar for details of any change)


If you wish to start beginner lessons, just turn up at the Redland Club at 6.30pm on any Wednesday and we will get you going in the basics of this wonderful dance
Click here for Map to Redand Club
NEW: Wednesday Practica
8.30 - 10.30pm only £4
at the Redland Club BS6 6TN - open to all
Our last Wed teaching night & Practica this term
will be 23rd April. We will restart on Wed May 14th
Forthcoming classes
Milongas & Events
Tango West presents
12 & 13 April 2014

A Spring Surprise week-end with the legendary Milena Plebs & talented Demián García
Photo: Federico Paleo
Direct from Buenos Aires!
to teach and perform their unique and graceful style of tango
Saturday 12th April
Workshop 1 3.00pm-4.30pm The Spirit of Vals
Explore the delightful rhythms of vals, with
illuminating insights into "variaciones," using
the flow and intensity of this delightful dance.

Workshop 2 5.00-6.30pm Tango, Favourite
Movements
A rare opportunity to discover some of Milena and
Demián's favourite tango movements and why they
work – not to be missed!

Saturday Grand Milonga 8.30pm-1am Performance
by Milena & Demián at 11pm!

Sunday 13th April
Workshop 3 11.30am-1.00pm Tango Essential
Technique
Milena and Demián share their knowledge of the
essential elements of tango salon with emphasis
on technique to enhance your dance.

Workshop 4 1.30-3.00pm Milonga!
How to make milonga extra special fun...Milena
and Demián will help you spice up your dance
with playful movements that fit the music perfectly!

Tango Cafe Domingo 3-8pm a great way to round
off the week-end.

Who is Milena Plebs?
Emerging in the 1980s, Milena Plebs was one of the most important figures in the Tango Renaissance. It is probably no exaggeration to say that we would not be dancing tango socially throughout the world today if it were not for a few figures like Milena, who revived interest in this wonderful dance by performing internationally, with legendary shows like Tango Argentino and Tango Por Dos. She helped create a style that revives the traditional tango of the milonga salons, which renews and places it as the central element of the Tango experience.
Do come and show your appreciation, by attending some or all of this event.

4 workshops, 2 milongas, 1 big event at the Redland Club Bristol BS6 6TN
Click here for Biographical detail

Totally fantastic and inspirational weekend. Thank you all for the wonderful turnout and for creating such a relaxed and congenial atmosphere. And above all, thanks to Milena and Demian - real Argentine Tango - the genuine article.
Tango West - bringing Tango to Bristol & the South West for 16 years

Click here for Map to Redland Club

Click here for our 2014 Milonga dates
(Please check regularly for any changes)
Forthcoming milongas