Welcome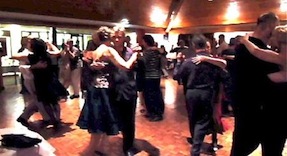 Tango West is one of the most established schools of Argentine Tango in the UK, having started over 16 years ago in 1998. We have taught 1000's of classes and put on around 400 social dances (or Milongas) over the period. Michele and Andrew are Tango West's principal Directors with over 32 years experience between them.
We hold regular classes from beginners upwards, on Wednesday evenings. We have acquired a reputation for providing structured, friendly classes with an emphasis on good technique, making for a solid foundation for dancing Tango Argentino.
If you are keen to try your hand at Argentine Tango, why not drop by at 6.30pm on a Wednesday, at our regular venue: The Redland Club on Burlington Road, Bristol BS6 6TN
Click here to see us dancing Tango at the Club
Click here for our 2014 Milonga dates
(Please check regularly for any changes)
* * * * * * * * * * * * * * * * * * * * * * * *
We will welcome back Gustavo Benzecry and Maria Olivera to teach for us on Wed 8th Oct.
Last year their classes were a sell out! The evening will feature two classes - Tango and Milonga - and we encourage you to book with a partner.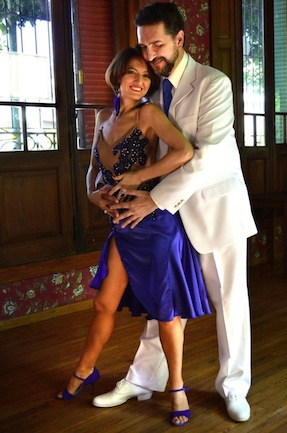 * * * * * * * * * * * * * * * * * * * * * * * *

The Redland Club is also available for hire for group and individual activities.
Click here for more details and pictures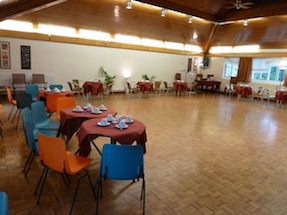 Click here for map to The Redland Club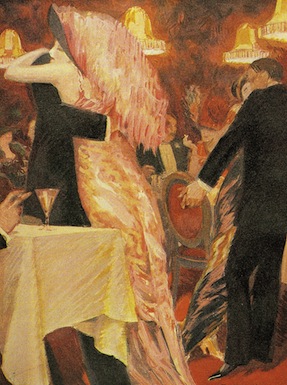 Lessons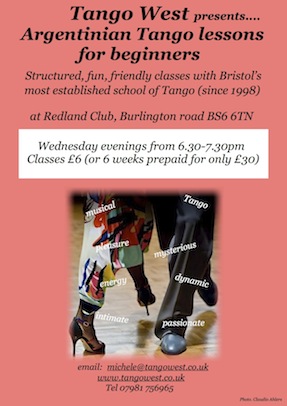 FROM WEDNESDAY 10th SEPTEMBER WE WILL
BE STARTING A NEW BEGINNERS COURSE.

Beginners Argentinian Tango classes at the Redland Club
Autumn term starts on Wed 10th Sep...
6.30-7.30pm just £6 per class or a series of 6 classes for £30...

This term we will be teaching the fundamentals of tango as well as adding in new concepts for those students who have already taken some classes with us. It's fine to drop in though better to commit to a series of classes if you can. That's so you can learn the basics, make regular progress and develop your skills. Michele and Andrew provide expert instruction based on many years experience of the music and the dance!
Classes will run on Wednesdays:-
Sep 10,17,24
Oct 1,15,22, (breaks on Oct 8th & 29th)

& Another 6 week block:-
Nov 5,12,19,26
Dec 3,10

There's no need to bring a partner- it's fine to come solo; please wear smooth soled shoes suitable for dancing.
FFI: contact michele@tangowest.co.uk or call 07981 756965

Click here for Map to Redand Club

This coming term (10th Sept onwards) we have decided to embark on a new format for Wednesday Evening Tango....

We will now be inviting popular Guest Teachers regularly once a month - generally this will be on the fourth Wednesday of each month - and instead of a drop in class we'll be inviting you to book ahead so we can be sure that it will be viable. If enough people book to cover the costs then we'll be able to go ahead.
On the other Wednesdays of the month you can still get your tango fix - at our new mid-week milonga

"Milonga UnDosTres"
7.45-10.45pm, £5
featuring the very best of classic tango dance music.

Beginner lessons 6.30 - 7.30pm as normal



*********
Tango West proudly presents ….
Mónica Paz from Buenos Aires
Sunday 7th September

Click Here for details
Monica is known world wide for her series of interviews with famous milongueros from Buenos Aires, including Flaco Danny, Osvaldo Natucci and Cacho Dante..you can access these amazing interviews via her website:

Click Here and follow drop-down links

Private classes with Monica are also available by arrangement on Mon 8th September...email michele@tangowest.co.uk
Forthcoming classes
Click below
Milongas & Events
We host regular Milongas at the Redland Club, Burlington Rd, Bristol BS6 6TN. We aim to create the atmosphere of a Traditional Buenos Aires Milonga...featuring Golden Age tango music, played in tandas with cortinas...encouraging good floorcraft and the use of tango etiquette, including the cabeceo...
We try to hold a Tea Dance Tango Cafe Domingo on the first Sunday of the month (3-8pm) and late night Milonga, Milonga Esta Noche usually on the third Saturday (8pm-12.30am).

Click link here for any changes to this pattern.
* * * * * * * * * * * * * * * * * * * * * * * *
Monica Paz teaches in Bristol
Sun 7th Sept

Workshop 1 - Followers Technique ((fully booked)
1.30-3.00pm Workshop 2 – Tango - mastering fluid improvisation
Improve the quality of your dance by exploring some key elements under Monica's instruction, that will deeply enhance your connection with your partner, enabling you both to express the music with greater emotion and move together more fluidly through improvised movements.

3.15-4.45pm Workshop 3 – Vals – Expressing the musicality of Vals
Interpret the wonderful musicality of Vals on a higher level, through developing a greater awareness of movement within the close embrace. Mónica will share her immense experience of the subtleties of technique and rhythm unique to the Vals.

5pm-9pm Tango Café with Tango West DJ: Andrew Oldroyd
Enjoy four hours of dancing with one of the most experienced Tango DJ's around Wonderful traditional tango, milonga and vals music arranged in tandas with cortinas, with a high quality music system! Large parquet dance floor and air conditioning! Delicious nibbles, refreshments & cakes.

Prices:
Workshop 1 - Followers Technique (limited places) £25 per person
Workshop 2 – Tango - mastering fluid improvisation £20 per person
Worskhop 3 – Vals – expressing the musicality of Vals £20 per person
Tango Café including all refreshments £8

Discounted Packages - at a great price - available now! :
Full package £73 (£65 if pre-paid by 29th August)
Workshops 2+3 and Tango Café £48 (£43 if pre-paid by 29th Aug)
Workshop 2 or 3 and Tango Café £28 (£25 if pre-paid by 29th Aug)
Individual W/S 2 or 3 £20 (£18 if pre-paid by 29th Aug)

Please book with a partner for the afternoon workshops and also note that advance payment is required by either cash, cheque or Bank Transfer.

Tango West - bringing Tango to Bristol & the South West for 16 years

Click here for Map to Redland Club

Click here for our 2014 Milonga dates
(Please check regularly for any changes)
Forthcoming milongas
Click below