Forthcoming classes
Click below
Forthcoming milongas
Click below
Latest news
Wednesday lessons
with Andrew & Michele
at Redland Club BS6 6TN


New Beginners always welcome


Click here for Map to Redland Club BS6 6TN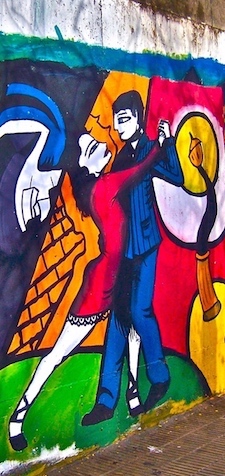 6.30-7.30pm
New Beginners & Recent Dancers £6…
Welcome to all our new beginners and recent dancers in 2017. We are starting the New Year with an inspiring series of classes designed to build up your skills and technique in the fundamental elements of tango. If you haven't been for a while, now's the time to come and re-ignite your passion for this wonderful dance.
7.45-8.45pm Themes & Technique £8
This class is aimed at those who wish to develop and improve their dancing skills and technique and to develop confidence for social dancing. It should appeal to students who have done a series of first level classes with us and those who want to polish up their technique.
8.45-10.30pm Practica £4
(free with second class)
The class is followed by a " practica " which we also encourage you to attend as it is by putting in practice time, with hands on advice from the instructors, that makes your dancing improve! We look forward to seeing you on Wed evening!
Price for whole evening £10
Michele & Andrew demonstrate a simple social
style of Argentinian Tango - the kind of thing
you might find in the traditional Clubs
(or Milongas) of Buenos Aires


Click here for our Milonga dates for 2017
Sunday 12th March
Tango Cafe Domingo
Our Classic Sunday afternoon Milonga
2-7pm £10 inc refreshments

DJ: Andrew Oldroyd


Friday 24th March
Milonga Esta Noche
Our famous late night Milonga
7.30pm - 12am or later
DJ: Andrew Oldroyd

Our next Wednesday Practica will be
on 1st March 2017 - 8.45 - 10.30pm £4
See left hand column for more info
about our Wednesday classes
Click here for Map to Redland Club BS6 6TN
Tango West, established 19 years ago, was instrumental in bringing Tango to Bristol and the surrounding area. It is run by Andrew Oldroyd and Michele Tedder. Over the years we've held thousands of classes and put on and DJ'd at over 400 social dances and events. Tango West is the place to come to learn and dance Argentine Tango.
We are dedicated to promoting Traditional Tango