Welcome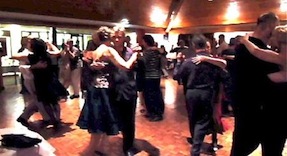 Tango West is one of the most established schools of Argentine Tango in the UK, having started over 15 years ago in 1998. We have taught 1000's of classes and put on around 400 social dances (or Milongas) over the period. Michele, Andrew, and Iwona are Tango West's principal Directors with over 45 years experience between them.
We hold regular classes at various levels from beginners upwards, on Wednesday evenings. We have acquired a reputation for providing structured, friendly classes with an emphasis on good technique, making for a solid foundation for dancing Tango Argentino.
If you are keen to try your hand at Argentine Tango, why not drop by at 6.30pm on a Wednesday, at our regular venue: The Redland Club on Burlington Road, Bristol BS6 6TN
Click here to see us dancing Tango at the Club
The Redland Club is also available for hire for group and individual activities.
Click here for more details and pictures
Click here for map to The Redland Club
Click here for our 2014 dates (pdf)
Milena Plebs & Demián García
Photo: Federico Paleo
Spring Surprise 12&13 April!
Milena Plebs & Demián García

Tango West is delighted to announce that the legendary Milena Plebs will be making a return visit to teach for us in Bristol this Spring! Milena will be accompanied by her partner Demián Garcia to teach and perform their elegant and immaculate style of tango. This will be an unmissable event!

The programme will comprise 4 workshops over the week-end, a Saturday eve milonga and Sunday tea dance.
Full details of the workshop themes will be announced soon. To register your interest, please e-mail Michele.....michele@tangowest.co.uk.....and please note that you should book with a partner for the workshops.

Milena is a truely acclaimed international tango teacher and performer who was last at Tango West in May 2011 together with David Palo. They were very warmly received and the event was a huge success.

We are looking forward to welcoming Milena and Demián for what will be a very special week-end of tango - so please put the dates in your diary and we'll keep you posted about the details!
Lessons
Wednesdays lessons:
This is the structure for most Wednesdays.

6.30-7.30pm Beginners & Recent Dancers
£6 drop in or £30 for 6 classes

7.30-8.30pm Improvers (3mths+) Technique
class, with practica till 9pm £8

9.00-10.00pm Intermediate class, followed by
practica till 10.30pm £8

You can take classes 1 and 2 on the same night for £10
or classes 2 and 3 inc practicas for £12....

NB. Times and Prices may vary for Visiting Guest Teachers (check calendar for details of any change)


If you wish to start beginner lessons, just turn up at the Redland Club at 6.30pm on any Wednesday and we will get you going in the basics of this wonderful dance
Andreas Wichter will be back teaching for us again on the 5th & 19th March
The format will be a single long class: 7.30 - 9pm Cost £12 (incl Practica till 10.30pm)
Tanguera's Delight: Triplets, Rebotitos and Rhythmic Alternaciones
Let's go crazy with certain rhythmic combinations that have become all the rage in recent years! This is the first of a two-part class, laying the foundations for more delights to come later this month, putting followers on a sparkling Cloud Nine while allowing leaders to go nuts with perfectly controlled asymmetric rhythms.

Beginner's lesson as normal with Michele, Iwona & Andrew 6.30 - 7.30pm £6
Forthcoming classes
Milongas & Events
We host regular Milongas at the Redland Club, Burlington Rd, Bristol BS6 6TN. We aim to create the atmosphere of a Traditional Buenos Aires Milonga...featuring Golden Age tango music, played in tandas with cortinas...encouraging good floorcraft and the use of tango etiquette, including the cabeceo...

We try to hold 2 regular Milongas per month:
A Tea Dance usually the 1st Sunday and a
Late Night event, usually the 3rd Saturday.
Always check website first before turning up.
Wonderful Cafe Domingo on Sunday - a particularly nice one. Thanks to you all, especially those travelling quite a way to be with us.

The next event will be:-

Milonga Esta Noche Saturday 15th March
Redland Club BS6 6TN

8pm - 12.30am Cost £8 - refreshments inc.

DJ: Michele Tedder

Tango West's Traditional Saturday late night Milonga. Superbly crafted music in Tandas with Cortinas from one of the most experienced Traditional Tango DJs in the country, with one of the best sound systems for miles around; plus a large parquet dance floor set in an atmospheric venue.

If you haven't ever been, give it a try on Saturday 15th March.

Tango West - bringing Tango to Bristol & the South West for 16 years

Click here for our 2014 Milonga dates
Forthcoming milongas